I've found the ongoing pompous debate over what we should call ISIS (or ISIL or Daesh) simultaneously entertaining and exasperating. I instinctively bristle when anybody tries to tell me which words I should – or even can – use. Particularly because said language police are almost invariably pontificating from their posteriors.
This is mostly certainly the case in this debate.
Many Western commentators – including numerous high profile figures who presumably have squads of researchers at their beck and call – are keen we stop using ISIS because, they sagely inform us, Daesh is the correct term. ISIS contains the words 'Islamic' and 'State', and we don't want to dignify these people with either designation. Far better Daesh, because Arabs use it on the ground, because it is an insult.
Only it isn't. It's simply the Arabic for exactly the same acronym as ISIS, complete with the words Islamic and State. D'oh. In fact, if anything, by insisting on this change I'd argue you're insulting the Islamic world further by not even bothering to make even basic attempts to understand the Arabic words you're misappropriating. (For extra pedant points, the second 'S' in ISIS refers to Sham, not Syria. Sham is the region containing Syria. Confusing the two is akin to thinking England and Britain are interchangable.)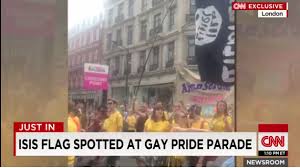 More importantly, the ideas behind this posturing are at best flawed. Removing 'Islamic' from the acronym won't stop ISIS being Muslims any more than rebranding a Big Mac as a lettuce sandwich will make it healthy. Similarly Islamic State isn't a state? Maybe, but by the same lofty definitions applied in this argument – of good governance and respecting the niceties of basic human rights – neither are many of our Muslim, slave-owning allies in the region. And if they aren't states, why are we selling them so many arms?
Hmmm. I'm reminded of those wearying historical wags who never tire of reminding us that the Holy Roman Empire was neither holy nor an empire. Perhaps. But you try describing Renaissance European history without the term. Terminology twists and adapts to suit the subject it describes. You can't make Islam the religion of peace simply by insisting that anybody who does anything wrong is ergo no longer a Muslim. There's been way too much blood for that to wash.
So what's the solution? If we abandon ISIS then has the dog from Downton Abbey died in vain? ISIL seems like a pointless compromise, and sounds like a fabric conditioner. Daesh just seems to underline Western ignorance of the situation in the Middle East, which is what got us into this shit in the first place. How about returning to ISIS's original moniker?
If we started calling them Jama'at al-Tawhid wal-Jihad again it would surely deprive them if the oxygen of publicity, because none of us can fucking pronounce it.