Part II
[Better late than never as the tired old adage has it. After my site's long hiatus due to 'technical difficulties', I thought I'd finally post the second part of my coverage of last year's excellent Abertoir festival (part one can be found here). While now more than a little tardy, several of the films previewed there are now seeing general release. Plus, I had such a good time, it'd seem criminal not to scribble down the rest of my fervid thoughts on the matter. So, without further ado, more rum doings in Wales…]
Friday
The weekend kicked off with another of those cross-disciplinary horror events that Abertoir does so well. In this case, film scholars Mark McKenna and Johnny Walker presented an illustrated talk entitled From Video Collecting to Contemporary Cinema, continuing the festival's focus on the 1980s 'Video Nasties' panic. While both gents are academics, they're also clearly dedicated horror enthusiasts, and the engaging presentation successfully walked the line of taking an oft-condemned field seriously, while never losing sight of the fact that these films were always supposed to be fun. It was still a slightly odd feeling to see all of those films I'd watched through a fug of booze and smoke in my teen years being subjected to serious scholastic scrutiny.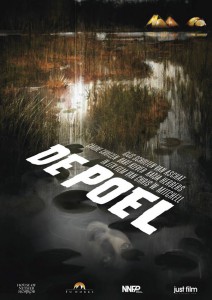 Next up, after lunch on Friday, was the UK premier of Dutch chiller The Pool. Two families go on a camping holiday in the woods. But things do not go according to plan, and job issues, family stress and sexual tension conspire to make an idyllic, bucolic setting feeling increasingly oppressive and malign. Meanwhile, something ancient and seductively malevolent lurks beneath the murky surface of the pool they have camped beside. Frequently creepy and, on occasion, nightmarish, The Pool is a darkly refreshing change from the usual, predictable Hollywood product, that will please fans of atmospheric horror cinema that doesn't pander to Hollywood cliches.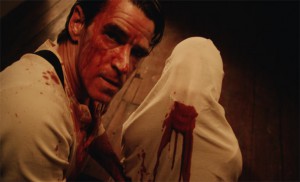 Continuing the watery theme, Friday's following feature was The Canal, an Irish film that also felt fresh compared to much of what you might see at your local multiplex. While superficially it sounds like wearyingly familiar fare – a ghost story that uses haunted audiovisual technology to update the scares – The Canal attacks its subject with much more skill and originality than the glut of formulaic ghost movies being pumped out by major studios right now. Seeing the indies do it right like this is a reminder why it's so rewarding to attend festivals like Abertoir, that screen superior, low profile material you might never otherwise see.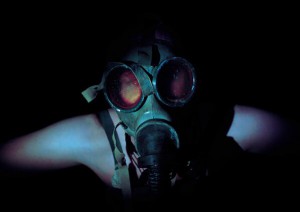 Next up was a one-man play, an adaptation of The Temple, a short story by cult horror author H.P. Lovecraft. I'm somewhat sceptical of experimental theatre, and The Temple isn't one of Lovecraft's better stories, but I needn't have worried. Performed by Michael Sabbaton, an actor who specialises in such productions, it tells the story of a German U-boat captain, the last surviving crew member of a submarine that has lost power and is inexorably sinking into the ocean's stygian depths, as his sanity steadily dwindles. Hypnotic, effective and tense, and a true treat for Cthulhu mythos devotees, I shall certainly be trying to catch Mr Sabbaton's next tour.
Friday night concluded with a crowd-pleasing screening of Gremlins followed by an 80s themed disco. We ducked out of the former to get a pint, then concentrated exploring the Abertoir themed beers and cocktails through the disco as, to be honest, strutting our stuff was not my company's strong suit. And so to bed, in preparation for a full programme on Saturday…
Saturday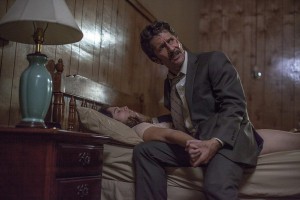 Opening Saturday's programme was Faults, a film that deserves plaudits for tackling a difficult and important, yet not overtly commercial subject, with courage and intelligence. Clearly low budget, the film rests squarely on the performances of the leads, playing a disgraced cult-buster (Leland Orser), and the young girl (Mary Elizabeth Winstead) he's been hired to de-programme from the new age cult she's joined. Both deliver powerhouse performances in a clever film that keeps you guessing till the final scene, while deftly exploring concepts like brainwashing and religion. Faults is, in the best sense of the term, a subtle mind-fuck.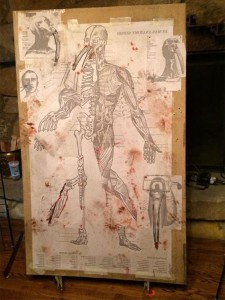 Part II Next up was Tusk, the new film from cult director Kevin Smith. Smith alienated much of his core audience with his previous, oddball, provocative thriller Red State (and accompanying media outbursts) and I doubt Tusk will change that. It's likely too goofball and quirky for most horror audiences, and too unabashedly dark and macabre for his former fans. But I really liked it. It's a pitch-black, absurdist comedy about social media and serial murder that pays little heed to modern taste or cinematic convention, featuring Johnny Depp in one of his most unconventional roles, and I howled and gagged throughout in all the right places.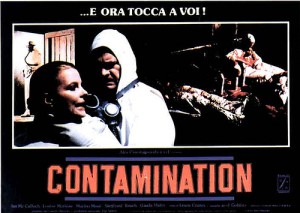 We went retro next with Contamination (aka Alien Contamination), an Italian Alien rip-off from 1980 that got caught up in the Video Nasties panic. It's director Luigi Cozzi and star Ian McCulloch were on hand to explain matters in person after the screening, though even they could shed little light on a wildly lurid, irresistibly silly plot about exploding extraterrestrial eggs, drunk astronauts and space cyclopses. It was, of course, sublime fun, and the Q&A afterwards a treat, as McCulloch talked about fighting midgets and Cozzi revealed that the film was only funded as part of a drug smuggling caper.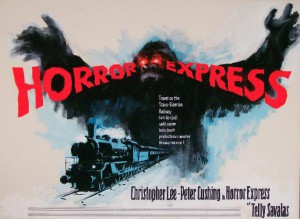 Abertoir always go the extra mile to offer something different, and Saturday concluded with a moonlit ride through the haunted Welsh countryside on a vintage steam train, followed by a screening of the 1972 shocker Horror Express on the station platform. Bringing together the peerless cast of Christopher Lee, Peter Cushing and Telly Savalas, Horror Express explores what happens when a brain-sucking alien encounters two Edwardian British gents on the Trans-Siberian Express. Our train journey was less eventful, but just as wonderful (and similarly chilly) and even though I've seen Horror Express numerous times, I shall never forget watching this toothsome slice of Euro-horror in such a perfect setting!
Sunday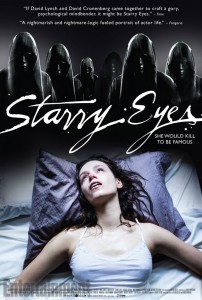 Sunday's opener Starry Eyes has been enjoying some praise among horror devotees as an underrated gem, but I'm afraid I wasn't so taken with it. It felt too much like hipster filmmakers making a film about hipster filmmakers trying to make films. The lead is convincing as a highly-strung ambitious actress, but I've known enough neurotic narcissists in my time, and didn't relish spending too much time in her company. I don't believe a film needs sympathetic characters, but if the characters don't engage, the plot has to, and the whole 'Hollywood is wicked' schtick felt pretty tired here. Starry Eyes isn't a disaster, but I thought it fell rather short of its building reputation.
Next up was pianist Paul Shallcross, who's become something of an Abertoir institution with his live soundtracks for silent horror films. Like last year, Paul chose a selection of short films, which works very well, as movies that are sometimes over a century old can challenge modern attention spans. This time he accompanied a quintet of subjects of a more whimsical tone, though the 1927 British short about premature burial, inspired by Rachmaninov's famous Prelude in C sharp minor, was pleasingly dark. Paul's compositions really brought the films to life, as did his informative, amusing introductions, making for a splendid programme that comes highly recommended.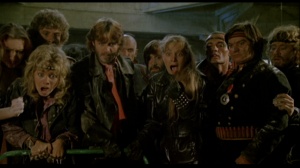 It was now time for another Abertoir institution, in the shape of the Bad Film Club, hosted by comedians Nicko and Joe. Every year the identity of the turkey concerned is kept top secret until the day, with this year seeing the audience subjected to the 1984 stinker Rats: Night of Terror. A disarmingly inept Italian Mad Max rip-off, which tries – and fails – to up the post-apocalyptic ante by introducing sentient rats, Nicko and Joe mercilessly mock the film's countless shortcomings, while encouraging the audience to join in the fun. It's a winning formula, that contributes yet more variety to Abertoir's commendably varied programme of horror themed entertainment.
How do you top something like that? Well, with an evening with Ian McCulloch, fresh from his engaging Contamination Q&A the previous night. Ian was a popular, accomplished actor who happened to stumble into roles in a number of the most notorious banned horror films of the Video Nasty era. Only nominally horror related – you suspected his popularity in the genre somewhat bemused him – Ian's presentation at Abertoir was akin to an accomplished after-dinner golf club speech, replete with theatrical anecdotes and blue jokes, alongside some eccentric musical interludes. Only at Abertoir could you find yourself in an auditorium full of horror fans, singing a children's song about dinosaurs, led by the star of Zombie Flesh Eaters on guitar…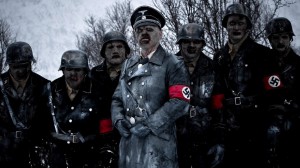 The week's finale came all too soon, a preview screening of the sequel to the popular 2009 Norwegian Nazi zombie romp Dead Snow. I have to say I felt that the original was a bit too self-aware – nudging the audience in the ribs a little too often – and that Dead Snow: Red vs Dead was worse in that department. It's received some pretty good notices, but I found the introduction of the nerdy American 'Zombie Squad' – evidently introduced to appeal to US fans – nearly ruined the film for me with their grating 'geek chic'. Happily, every time this infuriating trio made me want to abandon the film, the director fired off another bad taste sight gag – a Nazi tank shelling a woman pushing a pram or suchlike – so I'd give Red vs Dead a mitigated thumbs up.
[This year will be Abertoir's tenth anniversary, and I have little doubt that the crew will pull out all the stops yet again. It's a very special event. Sadly, Afan ab Alun, a regular attendee, died last year. He left money in his will to contribute towards the 2014 event. That's the kind of festival it is, and I wouldn't miss the 2015 Aber for the world. See you there!]