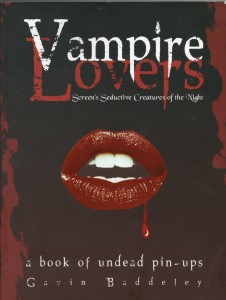 ABOUT
If I said that writing Vampire Lovers had nothing to do with the commercial feeding frenzy over Twilight, you wouldn't believe me. This book was the consequence of trying to reach a compromise between that demand and my determination to say something interesting about vampire cinema, a subject I'm passionate about, and the more I thought about it, the more interesting the prospect became. Even if I didn't think Twilight was a masterpiece, the fervent fan worship on the one hand, and equally visceral hatred of the franchise from horror veterans on the other, was interesting in itself.
In broader terms, it was intriguing to reflect how the actor Bela Lugosi was regarded as a sex symbol when he played Dracula in 1931, while few of his modern fans see him in such a light. From this point I decided to try and move backwards, identifying what it was about a series of actors that made their portrayals on screen of various vampires which appealed to successive generations. The intended result was to present a book which not only provided an entertaining guide to undead pop culture, but also suggested something about the evolution of the taboo desires that fuel the horror movie.
REVIEWS
'Baddeley's sneaky stirring in of spicy cult gems with the flavors of the month is what makes discussing this book worthwhile. How many other teenybopper tomes from the supermarket racks reference Blacula or Daughters of Darkness? Make no mistake: Vampire Lovers is not at all intended for horror-educated Fangorians, or even those with slighter genre experience. It will reveal no new information or insights, and most of the films discussed within are already sitting on your DVD shelf. Instead, this book is for your kid sisters, sporting their Team Edward T-shirts down at the mall. It's for your co-workers who giggle and gasp from behind clutched throw pillows at True Blood's racy thrills and dripping hemoglobin.
'Thanks to its diversity and long memory, Vampire Lovers has the potential to act as a gateway drug to sturdier stuff; when the staid teenybopper context of today's vamps no longer satisfies, the book can be a signpost to sharper fangs. Not all followers of Hollywood's current wave of exsanguinated idols will eventually succumb to the charms of Dark Shadows and Hammer Glamour, but for those who may, Vampire Lovers is a solid primer. And for we who already happily dwell in darker recesses, why not pass this book along to some unsuspecting acquaintances and see if they bite back?'
Fangoria, December, 2010
'The book is well put together and lavishly illustrated with portrait photography, film still and poster art. Each section, whilst devoted to a specific character, attempts to put the vampire and actor in context of appearance on film and what was happening around them at the time, such as similar vampire portrayals that didn't make such an impact. The choice is certainly open to debate, these 26 are the author's preferences, and chooses Alexander Skarsgaard above Stephen Moyer from the True Blood series. Personally I can see where he's coming from with that particular choice but I'm sure there are other who wouldn't agree… It may well stimulate debate amongst those fans who are much more knowledgeable in the area, but I found it a great read…
'I found the book well pieced together and well researched with an easy writing style that held my attention, whoever the subject was. And I'm not even the right demographic for this book either.
'Nicely done…'
8/10 MyReviewer.Com
'The entries cover the films, the stars and their sex appeal in a lively, comprehensive way, but this doesn't pretend to be an in-depth, academic film book. Instead, this is one for fans of modern sex-soaked bloodsuckers who want to discover a little more about cinema's earlier undead hunks and babes… It may not be an exhaustive history of screen vampires, but some surprising selections make Vampire Lovers a lively read.'
Total Sci-Fi magazine, November, 2010
'This is not heavy academic fare, nor entirely lighter-than-air frippery, with as much cross-cultural appeal to mainstream teenage 'Twilighters' as to more hard-core vampire fans who would throw up their capes in horror at the exclusion of firm foundational favourites as Lugosi, Lee and Oldman – a modern contender for 'best ever Dracula' according to Baddeley. Specifically, Baddeley is trying to "pin down just what makes each individual vampire unique in their appeal" and the biggest point for review is whether he has succeeded in doing this.
'To be entirely fair, he has. His profiles – a clever, clean sectioning of the various vampires into individual case studies – present a healthily-paced skip through the annals of screen vampires. He holds back on developing too many deep, esoteric themes and is also light on hammering home his own opinion and too much inter-textual debate on the connections of this type of vampire to this thematic subject, and thus dispenses with two of the biggest markers of studiously academic writing that would turn off a greater number of readers reeled in by his glossy promises of Cullen-tastic and similar goodies.
'This light tone, while remaining for the most part overarching and presentational, means that the greater amount of decision-making over the 'uniqueness' of the vampire in question remains in the mind of his reader. The style invites inclusion, engagement with the ideas presented, and perhaps the starting point for some cheerful debate on whether those involved got it right or wrong. Baddeley makes liberal use of quotation from actors playing the role and the thoughts of directors striving to achieve a vision and type, a tidy way of presenting 'from the horse's mouth'…
'The book, then, follows a tradition of vampire writings on allowing, nay, expecting, the reader to provide their own response and can be counted a success in provoking such thoughts (even if it is only "they are so not right about that!"), and leading the reader into doing half of the author's job in eliciting feedback to presented stimuli. Such books are half in the reader's arena when it comes to fleshing out data with their own ideas, and Baddeley manages this trick with aplomb.
'Yet this is not a subject that Baddeley takes on flippantly. He claims a great pleasure in the hours of re-viewing required to research his vampires, and encourages a hope that readers might find a few new fanged friends to take to their hearts and DVD players from among his choices. There is an obvious amount of love for his subject; each vampire is handled with respect and playfulness. For each there are nods to recurrent wider ideas associated to types of vampire: rebels, disease, gay politics, feminism, in/sanity, other vampiric connections/developments and chastity are all touched upon as and when they fit within the purview of each profile. But he wisely desists from heavy intrusion of his own opinions, keeping the tone playful and eminently readable, instead of opening up the actors, directors and publicity materials associated with each vampire to our criticism.
'To sum up: this is a fun, glossy coffee-table-book read, with a little more depth and attention to detail than that type of book would lead one to expect. It contains a thought-provoking afterword, and the individual profiles of each vampire prove fertile ground for reader response. The format is easily accessible, both intellectually and physically, and the book itself a worthy addition to a vampire fan's collection, leaning towards the lighter end of the spectrum…'
The Future Fire, September, 2010