On a personal level, 2018 was a very challenging year. But there were good times, and one highlight was definitely our public screening of BRIDE OF FRANKENSTEIN for Halloween. And all great experiments deserve a post mortem, so if you will indulge me, here follows an autopsy of THE BRIDE OF FRANKENSTEIN…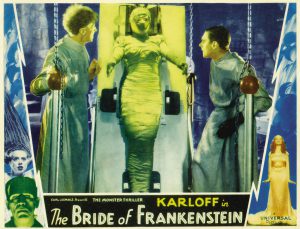 I'd been talking about collaborating on something with the events coordinators at York Explore for some time, when last year all of the pieces fell into place. York Explore's popular Big City Read initiative for 2018 was focused on THE RADLEYS, Matt Haig's vampire novel, so Gothic was very much in the air. I agreed to give a talk on The Unnatural History of the English Vampire at Explore, but we also thought it would be a shame not to do something a little more ambitious to add to the programme of events.
It was the bicentennial of the publication of Mary Shelley's original novel FRANKENSTEIN, so it made sense to do something to celebrate that. And thus Explore Gothic was born. Explore manage most of what remains of St Leonard's, a ruined medieval hospital in the heart of York, and had resolved to more fully explore the potential of this unique space. It's the perfect Gothic backdrop for a Frankenstein event, but what? Then leading pop-up screening specialists CinemArts joined the team, and it became obvious that our challenge should be to transform St Leonard's into a medieval cinema showing a Frankenstein film over Halloween.
But which one?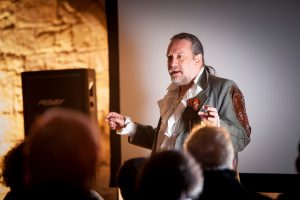 As the team's Gothic expert I was appointed curator, and I knew it had to be the 1935 classic THE BRIDE OF FRANKENSTEIN. The first landmark FRANKENSTEIN film was released four years previously, directed by James Whale and starring fellow Englishman Boris Karloff as the iconic Monster. It established most of our popular ideas about the story, from the Monster's shambling gait, flat head, and bolts through the neck (actually electrodes), to his resurrection via lightning strike in a cavernous electrical laboratory, as his ecstatic Creator screams "It's alive!". (In the novel, Mary Shelley is deliberately vague about both the Creature's appearance and the method of its reanimation, which are rather less spectacular on the written page.)
Yet BRIDE OF FRANKENSTEIN is an example of that rare creature – a sequel better than the original – a creepy, camp classic widely regarded among connoisseurs as not only a landmark in vintage horror cinema, but one of the greatest films ever made. The film brings together most of the talent – like Karloff and Whale – that helped make its predecessor, with two important additions to the cast. Ernest Thesiger plays the skeletal, gin-swigging mad doctor Septimus Pretorius, who steals every scene he's in with his creepily camp performance, and is in many respects the true monster of the film. In the title role is Elsa Lanchester, who also plays the author Mary Shelley in the film's prologue – another factor that made BRIDE the ideal feature for our bicentennial celebration.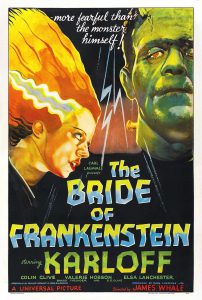 But it is as the Bride of Karloff's Monster that Elsa is best remembered, adding some welcome sexual equality to proceedings by becoming arguably the only female among horror's classic line-up of iconic monsters. Her distinctive hair-do – imitated for countless Halloween costumes – was inspired by a bust of the famously beautiful Ancient Egyptian Queen Nefertiti. For her performance, Elsa borrowed from the unfriendly swans in Regent's Park, who would hiss at her when she was taking an afternoon walk. While tame to modern eyes, BRIDE OF FRANKENSTEIN shocked contemporary audiences worldwide. Censors objected to overtones of blasphemy and necrophilia, with some nations – Hungary, Trinidad, Sweden and Palestine – banning the film outright!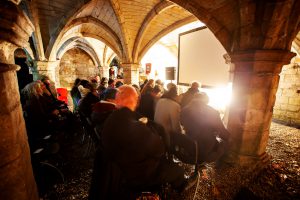 We were hoping to delight rather than outrage our audience with our film selection for the evening. From the start our powerfully atmospheric, chillingly apt venue was clearly one of our biggest assets. Showing THE BRIDE OF FRANKENSTEIN in an authentic ruined medieval hospital – how could you get more Halloween than that? At its medieval height, St Leonard's was perhaps the biggest hospital in England, containing well over 200 beds, and stretching as far as the current location of York's Theatre Royal, where fragments of the original structure can still be found. It was founded in the Anglo-Saxon era, rebuilt by the Normans, rebuilt once again after a fire in 1137, before falling into ruin in the 1500s during the Reformation. Our screening took place in the remains of the chapel, one of the facility's most important chambers, as medieval hospitals were closer to monasteries than modern medical facilities, places where the focus was on confession, convalescence, and prayer, rather than treatment.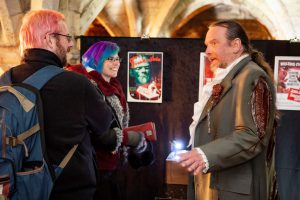 Our challenge was to transform this magnificent, but derelict space, into somewhere that could offer our audience a comfortable and pleasant cinema experience, without compromising any of its Gothic ambience. Our unique, eerie venue was in many respects the star of our show. So the Explore team worked tirelessly, creating chambers from thin air, carefully placing countless candles to get the lighting just right, and of course installing a pop-up bar. CinemArts used their trained eye to establish the optimal location for the screen and projector. New partners became involved at this final stage. Local purveyor of macabre curios and vintage oddities Pandora's Box contributed a display of antique surgical equipment plus a real human skeleton to watch over the bar. The synth music project Dead Eagle Club were on hand to provide live atmospheric sounds. Finally, I curated a display of film posters, depicting the history of Frankenstein on film.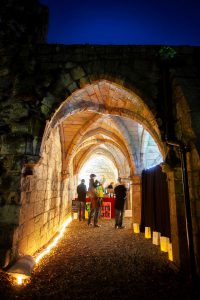 As anyone who's held such an event can tell you, the audience is key to its success. Not just that they attend, but that they do so with the right attitude to create an environment conducive to a memorable, enjoyable night. We knew we had no worries with numbers – we sold our last seat weeks ahead of showtime. Happily, we also got a wonderful crowd, who got exactly what we had worked so hard to achieve, and soaked up the atmosphere. I was scheduled to introduce the film, and it seemed a shame not to camp it up and go full Frankenstein, so I took to the stage in my flayed-skin greatcoat, poet's shirt, and some Regency riding boots I'd hired to complete the ensemble from the Theatre Royal's costume department, then delivered my introduction as if I were a mad scientist lecturing to a 19th Century medical society about a particularly shocking case.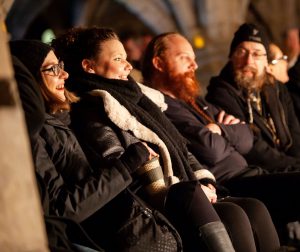 Despite this eccentric intro, everybody seemed to love the film, and I'd especially like to thank those who made a point of coming up to us afterwards to express their admiration. Also those attendees who came from out of town to attend our Halloween soiree – your efforts were truly appreciated. And for those who wanted to know if we will be hosting any similar events – I can now confidently say, watch this space! Meanwhile I'd like to thank everyone at York Explore – especially Dave, Andy and Rachael – and John from CinemArts, Libby from the Dead Eagle Club, Heather from Pandora's Box, and our volunteers, all of whom were a pleasure to work with and key to the event's success. Plus last, but far from least, the Arts Council, whose additional funding helped us take everything to the next Gothic level.
Until next Time!…
Location photography: Gareth Buddo © York Explore
Explore Gothic is part of Explore Labs which is a three year project, core funded by Arts Council England.