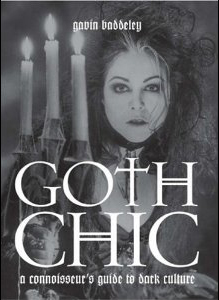 ABOUT
Goth Chic is an attempt to bind together the diverse threads that combine to create our understanding of the term 'Gothic'. It's a synthesis of numerous ingredients – from art, fashion and culture – intended to define a word that proves curiously elusive upon closer inspection. Touching upon everything from Victorian penny dreadfuls and classic horror movies, to Goth rock and S&M couture, Goth Chic is a celebration of the unique beauty and creative brilliance to be found in darkness…
REVIEWS
'[Baddeley's] a man of formidable intellect and it comes across in this highly enjoyable survey of a phenomenon closely linked with sex and death… Gavin's study of authors in the genre is especially interesting and his opinions of Mervyn Peake, H P Lovecraft who became quite lost for words at the thought of ultimate horror, and the trend-setting Clive Barker are fascinating and apposite.
This is a very good book indeed and one which will repay careful reading. Baddeley's analysis exposes an awful lot of Gothic 'culture' as bandwagon-riding, shallow and pretentious, but he amply demonstrates the real thing is a valuable contribution to culture, rarely taken as seriously as this.'
Bristol Evening Post, August 17th, 2002.
'Well informed and wide-ranging, Goth Chic is a great introduction to the subculture.'
Kerrang!, September 07th, 2002.
'In the end, this is a book that will have a minor appeal to film buffs and students of gothic literature, and a huge appeal to lovers of pierced nipples and rubber pants. There is a lot of material on the history of gothic and neo-gothic bands; Baddeley includes Joy Division, the Cramps, David Bowie and the Rolling Stones, as well as Bauhaus and the Sisters of Mercy, in his round-up. It's interesting, but it's not as interesting as his analysis of de Sade and Walpole and Stoker; pop fans like being gloomy and wearing black and taking drugs just because they are teenagers. "Many Goths," writes Baddeley, "wear black simply because it looks good."'
The New Statesman, September, 2002.
'[Goth's] pre-history is the focus of Gavin Baddeley's Goth Chic (288pp, Plexus, £14.99 pbk). An author who was once invited to join the Church of Satan, he has produced an imaginative lineage of the Gothic sensibility… Baddeley's book is more whimsical and also more accessibly written than Hodkinson's study… Baddeley can be entertainingly speculative: "Goth counterculture is now manifesting itself at the very heart of mall culture with increasing virulence… Gothic is sophisticated barbarism. It is passion for life draped in the symbolism of death. It is a cynical love of sentiment. It is a marriage of extremes such as sex and death. It uses darkness to illuminate."'
The Telegraph, September 07th, 2002.
'Goth Chic is a remarkably interesting "facts to know and tell" book about the often misconceived gothic culture. The author of Lucifer Rising, Baddeley examines and offers an explanation of a culture described as "a philosophical perspective" but which is denied by most of its icons… Not just for the Mission-adoring veteran, this is a truly interesting and informed read for anyone who has a passing interest in gothic literature, music and for those with a black-eyeliner fixation.'
Record Collector, October, 2002.
'Goth is cool. Not all Goths are cool, some are just sad. But as an aesthetic, and taking in the breadth of Gothic style (music, film, literature, sex, fashion, architecture), it's right up there with gayness as a defining influence on 20th and 21st century popular culture… From Byron to Poe, Tim Burton to Lovecraft, Christopher Lee to fetish clubs, Goth Chic is an essential handbook for aspiring Goths.'
4/5, Loaded, December, 2002/
'Goth Chic is written by a well known writer of the underground alternative scene… Lavishly illustrated throughout, Goth Chic makes for an enthralling read… there is masses of information on a lot of interesting and relevant topics… an essential book for anyone interested in Goth's place in the history of dark culture!'
Kaleidoscope magazine, Winter, 2002.
'But Goth also claims a noble literary tradition, with Gavin Baddeley, author of the new book Goth Chic, tracing the movement back to the passionate — and sometimes macabre — non-conformity of the 19th century romantics.
When poet Percy Bysshe Shelley wrote, rapturously, "I fall upon the thorns of life! I bleed!" he was having a Goth moment.'
Chicago Tribune, January, 2003.
'Goth Chic wallows in everything sumptuously heathenish and debauched in literature, art, fashion, cinema, and music…This book pried my eyes open to a world I was too stuck up to take note of.'
Lollipop magazine, Spring, 2003.
'Baddeley's Goth Chic is a lengthy and richly illustrated trade paperback that ranges from chapters on gothic literature, film, and music (chapters one through seven and ten), to fashion, "sensibility, and sensuality" (chapters eight and nine).  On the heels of his other, similarly organized Plexus studies on Satanism in popular culture (Lucifer Rising, 1999) and Marilyn Mansion (Dissecting Marilyn Manson, 2000 – highly recommended for teaching in popular culture courses), Baddeley is quickly becoming the patron saint of gothic journalism because of his humorous, sometimes ironic writing style, his thoroughness, and his obvious interest in the dark cultures.  Goth Chic is well-written, highly informative, and currently the best introduction to gothic culture and style intended for a broad audience.'
Journal of Popular Culture, Spring, 2003.