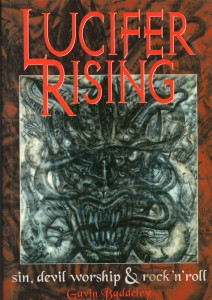 ABOUT
A book, as the subtitle suggests, about 'sin, devil-worship & rock 'n' roll', Lucifer Rising is a study of Satanism and modern popular culture. From the Old Testament to the electric guitar and beyond, the text presents an argument that that, if we are a Judeo-Christian culture, then Satanism represents the definitive counterculture.
Lucifer Rising was my first book, and it's somewhat scary to recall that the original contract was signed some twenty years ago. In its original incarnation the book was entitled Raising Hell, but a few months previous to publication date, a lamentably feeble Satanic crime encyclopedia with that name hit the shelves, necessitating a rapid rethink. But before Lucifer Rising could hit the shelves, the publisher went bust, pitching the book into limbo. In theory, I thought I had an original, controversial book which I could then take to another publisher. One lesson I learnt is that while most editors routinely tell you that they want provocative, fresh material, the vast majority are liars.
However, Lucifer Rising rose from the grave when my ex-publisher (now an editor with an authentic eye for the unusual) flagged it to another imprint, who decided to take a gamble on a devil book. In the intervening years much had happened. Not least, arch-Satanist Anton LaVey had died, while one of the book's interviewees had stabbed the other to death. (The murderer has since disowned the bizarre, incriminating interview, insisting he never spoke to me – you can enjoy his unique take on the book here http://www.burzum.org/eng/library/lucifer_rising_review.shtml )
Such mendacious lunacy aside, Lucifer Rising proved popular, helping to open a debate on Satanism, and I am particularly gratified by the number of people who say it introduced them to new music, new writers, new ways of looking at the world. Lucifer Rising was written before the internet took hold – research consisted largely of letters, followed by telephone calls, followed by visits via car, train and plane. Cyberspace has changed everything – not least Satanism – things were more underground then in a sense. Of all my books, I suspect this is most overdue an update…
REVIEWS
'Fascinating and often shocking – but worth the entrance fee for the inclusion of the final interview with murdered metal legend Euronymous alone.'
Melody Maker, 2nd Feb, 2000, Book of the Week.
'Ghoulish but alluring. As indeed is Satan. And Gavin Baddeley, founder of the London Church of Satan, knows all about Him… A gilt-edged (oc)cult classic'.
NME, 19th Feb, 2000. (8/10).
'Baddeley (a British journalist and occult specialist) brings wit and authority to anything from Hitler's occult fascinations to The Exorcist and Dead, the Norwegian death metaller who realised the promise of his name when he took a shotgun to his own head. Satan-affiliated rockers dissected in wry style include Marilyn Manson, Black Sabbath and AC/DC. The simple, capable prose is significantly boosted by content'.
Select, January 2000, Book of the Month (4/5).
'The result of six years of intensive research, Lucifer Rising is lavishly illustrated with rare and unusual images, most of which are previously unseen… Baddeley has written a definitive study of a timeless subject allowing his interviewees to speak for themselves while ignoring the well-trodden pathways followed by other less-discerning writers. As a study of the potent blend of the occult and the cult of rock, it's unparalleled. Highly recommended.'
Record Collector, January, 2000.
'plenty of informed research and lengthy interviews with "real" Satanists and "real" Norwegian death metal bands.'
Loaded, February 2000, Book of the Month (8.5/10).
'[T]he most comprehensive and accessible study of Satanism today, a fascinating and detailed book… and as for Gavin, the most frightening thing about him is his devilishly powerful intellect'
The Bristol Evening Post, profile of the author, December 11th, 1999.
'The ultimate guide to the influence of Satan in the world of rock music, and all manner of devilish culture…Lucifer Rising is a detailed study of Satanism in popular culture. And for the layman, it's as good a rough guide to the subject as you're likely to find… while author and king goth Baddeley may be considered to be one of the leading experts on Satanism, he's written Lucifer Rising in a style that doesn't require the reader to be a major academic'.
Kerrang!, December 18th 1999, Book of the Week (4/5).
'Satanism doesn't want or need a clean-up job. It thrives on bad press. In Gavin Baddeley's thoroughly researched Lucifer Rising it is treated with articulate intelligence. The book is not an apology for its subject matter: Satanism remains unrepentantly repellent and all the more so for being laid bare. The book's a morbid mine of information… inevitably, an uneasy read'.
The Big Issue, 13th December 1999.
'[L]avishly – and blasphemously – illustrated. A labour of love by British Satanism expert Gavin Baddeley… there's no doubting Baddeley's commitment to the subject'.
Venue, 10th December, 1999.
'Forgive us, Lord, for this is an entertaining, witty read.'
Maxim, March, 2000.
'For the connoisseur, a banquet of kitsch fascism, dirty sex (lots of bleeding crotches) and thick mascara.'
Fortean Times, April 2000.
'Lucifer Rising is a brilliant book which dispels so many of the huge misconceptions behind devil worship… Baddeley's writing is exactly how I wish more journalists could write – unopinionated, intelligent, thorough, and willing to address and evaluate a subject from all sides…. What I respect most about this book is that Baddeley was not unwilling to admit and address sides of Satanism which even most Satanists would reject (White Power, human sacrifice, etc.). It's a shame that I should say it's a rarity to see un-opinionated journalism.
If you've drawn a breath in your lifetime, it's safe to say you have misconceptions about Satan worship… Nothing I've ever read has dispelled more myths and misconceptions of devil worship that Lucifer Rising. Baddeley has made an entertaining, highly enjoyable, and incredibly important piece of work which was for me both an important lesson as well as a treat to read.'
Angelo Madrigale, Senior Writer, Fright X magazine.
'[A]n informative and entertaining history of Satanic organisations, from the Hellfire Club to the Order of Nine Angles… To his credit, Baddeley doesn't skirt round the issues involved here. He doesn't attempt to censor the voices of anyone involved, and nor does he justify or condemn. This kind of objective approach to such an emotive topic is rare and extremely welcome… I can't fault Baddeley's research or his approach. Highly recommended.'
Headpress magazine, Issue 20.
'Gavin Baddeley, genuine card-carrying Satanist, is a witty bloke even if he does work for the dark side. His new book, Lucifer Rising, is a no-nonsense history of those that dance with the Devil.
Interviews with Anton LaVey, Boyd Rice, and a number of those Scandinavian "black metal" kids alternate between logical and hysterical. Our favorite is when the angsty rocker from Burzum (currently in jail for killing a bandmate) talks about how his evil is fashioned after the Hobbit. Now there's a man with issue.'
Oui magazine, Jan, 2001.