With the horror festival season now over for 2016, I thought I'd cast an eye over the new films I caught at this year's Abertoir. I should emphasise here that this represents just a fraction of the diverse variety of entertainment on offer over the six day event. There was a selection of diverting horror-themed talks (including my own modest contribution) and two live Lovecraftian events (consisting of a performance by the impressive Duke St Workshop, and a one man show from the brilliant Michael Sabatton). And, as usual, a full programme of retro screenings of classic titles, from THE FLY and SHIVERS, to NEW YORK RIPPER and I DRINK YOUR BLOOD, plus a merry crew of special guests, such as b-movie queen Lynn Lowry, and soundtrack composing legend Fabio Frizzi, who debuted his new score for the 1981 cult zombie film THE BEYOND with a live band.
I must also confess that I didn't catch every new film screened at Abertoir (the need for food, sleep, fresh air and sanity sometimes took precedence). But below are capsule reviews of the new films I did see. From a pragmatic point of view, this makes most sense, as while nobody reading this without a time machine can enjoy any of Abertoir 2016's live events, the festival's peerless programme of premiers reliably gives a good snapshot of the oustanding films for horror fans to look out for in coming months. Last year attendees enjoyed preview screenings of films that subsequently enjoyed critical acclaim – such as THE WITCH and BONE TOMAHAWK – and this year's crop of international horror cinema also featured several titles surely destined to establish themselves as classics in years to come.
So, without further ado, a few new films from Abertoir 2016 to look out for in the coming months…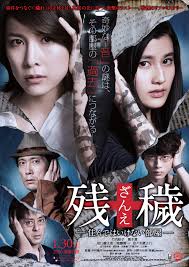 THE INERASABLE comes from Japanese cinema's distinguished tradition of haunting, sophisticated ghost stories, stretching back to KWAIDAN in 1965. The film begins with a writer who specialises in investigating the paranormal experiences of her readers. One particular case – of a student troubled by a mysterious brushing sound in her apartment – begins our descent into a maze of interlinked tragedies and spectral consequences. THE INERASABLE has two underlying subtexts: That the spirit world operates to its own alien logic seperate to that of the daylight world, and that the supernatural is contagious, slowly infecting all those who encounter it. The story unwinds like a langorous serpent, with each coil drawing you further into its uncanny world. In truth, at times it can be hard to remain focussed on which thread we are supposed to be following, and casual viewers may find THE INERASABLE too drawn out, but for those with the patience to persevere, it is studded with impressively unnerving moments.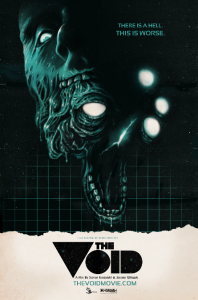 In THE VOID a police patrolman finds himself sheltering in a near-deserted smalltown hospital when it becomes clear that a local cult have broached a gate into an eldritch parallel dimension. A gushing love letter to the golden age of VHS horror of the 70s and 80s, THE VOID is peppered with visual and plot references to the work of American genre legends like Stuart Gordon and John Carpenter, as well as nods to Italian maestros of surrealist splatter like Lucio Fulci and Dario Argento. While I overheard some acccusations of plagiarism, for me these homages are delivered with such deftness and evident reverence and affection as to be impossible to resent or so readily dismiss. More importantly, you don't need to know a thing about B-movie history to sit back and enjoy the punchy pacing and gobbets of old school gore and monster FX in THE VOID's ferocious foray into Lovecraftian madness.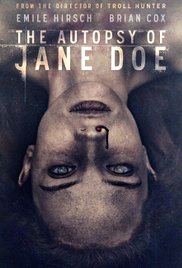 THE AUTOPSY OF JANE DOE takes place in a provincial American morgue that also doubles up as town crematorium. When the father and son team running the place take late-night delivery of an unidentified female corpse, it triggers a sequence of increasingly disturbing and inexplicable events. Quite unlike its director Andre Ovredal's previous feature TROLLHUNTER, THE AUTOPSY OF JANE DOE is a masterclass in scalpel-sharp suspense and cloying formaldehyde atmosphere – exploiting his morbid setting's potentrial for claustrophobic menace to the full – though things can suddenly get messily visceral when the story demands it. Brian Cox – now establishing himself as something of an unsung horror icon – takes the lead in an excellent cast, bringing warmth and believability to his portrayal of a brittle, but principled ageing pathologist. Despite very stiff competition, THE AUTOPSY OF JANE DOE won Abertoir 2016's audience award for best new feature, a richly-deserved accolade for a film that deserves to be recognised as a genre classic.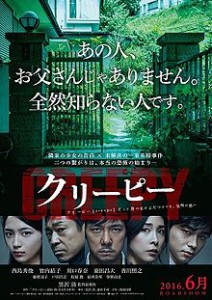 On the surface, CREEPY is a Japanese serial killer thriller in the HANNIBAL mould. In it, a police detective who specialises in psychological profiling sees a case go badly wrong, and quits the force to become a university lecturer in criminology. However, his past continues to haunt him, as he slowly begins to wonder whether the world of murder and madness he thought he'd escaped now resides right on his doorstep. I was with CREEPY for the first hour or so – it's well made and keeps you on the edge of your seat with a mood of quiet, pervasive foreboding. However, it isn't just a tense ride, but at 130 minutes a long one, and by halfway through the gaping plot holes and cockeyed character development begin to threaten to derail the whole film. Ultimately, director Kiyoshi Kurosawa might have done better to have opted either for a more straightforward straight police procedural crime film, or a more full-blooded foray into the suburban grotesque or perhaps even supernatural. As it stands, CREEPY tries to play both hands and doesn't quite satisfy with either, making for a strong film that falls tantalisingly short of its potential.
So ends the first part of my capsule round up of Abertoir 2016's finest. Check back in a couple of days for the second half.