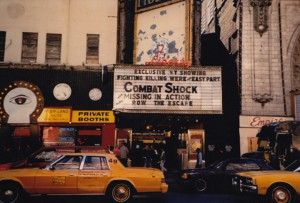 It's that time of year when excited fear fans make the pilgrimage out to the westernmost fringes of the UK for Abertoir. This time, the Welsh horror festival is focussing its attention on New York's 42nd Street. Not the popular musical, nor less the modern Disneyfied district around Time Square, rather the Deuce as it was once known, when the area was a sweaty Mecca for New York sleazehounds. Between the 1950s, and its revitalisation in the 90s, the Deuce was home to countless grindhouse theatres, screening the films too gory, crass or downright scuzzy for regular cinemas.
And for one week only, between 15-20th of November, Abertoir are bringing Manhattan's heart of exploitation cinema back to life in the quaint Welsh town or Aberystwyth!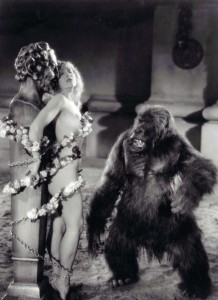 And, as ever, I'll be there, lowering the tone yet further. This time I'll be delivering a talk that tries to get to the very roots of the age-old association between cities and sin, digging deep into the worst history's decadent urban sprawls have to offer the unwary traveller. There will be weird facts and swearing, there will be wild gesticulation, there will be antique dirty pictures. But that's alright because rude pictures are okay, so long as everyone in them is dead… Hold on. That sounds wrong.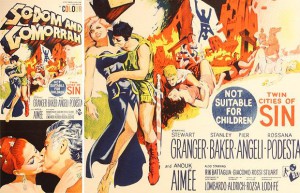 And for plenty more that sounds deeply wrong, join me at 2.15 on Thursday afternoon for my talk Beyond Sodom and Gomorrah, and witness the most foul-mouthed lecture on Mesopotamian social history ever attempted without the aid of a safety net.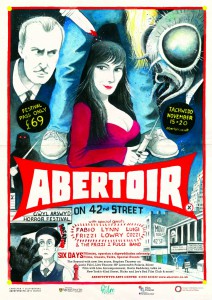 Even if my little performance doesn't appeal, do check out the rest of the programme, for as ever the Abertoir organisers have excelled themselves. There's a knockout roster of new horror films – such as Raw, The Love Witch, and The Void. Plus a feast of vintage grindouse – from I Drink Your Blood to The New York Ripper. There's also theatre (including an adaptation of the Lovecraft tale Polaris) and a return for the soundtrack composer Fabio Frizzi after his triumphant performance at last year's event. For further information, click here
Hope to see some of you there!…